Past life regression is the process that uses hypnosis of placing one into deep relaxation, in order to recover past memories from previous lives.
Some of these past memories are stored in our subconscious mind from the past, and these cellular memories made up who we are today.
Sometimes these cellular memories may be associated to negative emotions or feelings that we have.
Some past life regression therapy healing can be seen people who are suffering from repetitive negative behaviour, phobias, physical or emotional pain that cannot be addressed or healed by the medical professionals.
A past life regression therapy session usually takes about 1.5 to 2.5 hours where your hypnotherapist will put you in a deep state of relaxation that allows you to tap into your past memories, to allow you to release and let go of any negative associations to it/ them to allow healing.
Here is an overview of a typical Past Life Regression Therapy (PLRT) Session.
Set your intention for this past life regression therapy session.
Your beliefs of past lives, expectation and experience, if any
Suggestibilities tests to help identify the best methods to work with you
Bridging the gap between your expectation and your experience in this session.
The Past Life Regression Therapy Session with inductions and deepening relaxations will usually take about 10-20 minutes, followed by the regression and overview of your past life that is significant to your current intention or issues that you are wanting to resolve.
Optional follow up review of the regression, what was learned, help with processing the information and future directions.
Important note:
To set clear intention for your PLRT if possible.
To be open minded for change or any transformation that will help you with your current issues
To go to the toilet prior to the PLRT so that we can have the PLRT without any bathroom breaks, if possible
Do not take heavy meals or caffeine prior to PLRT, if possible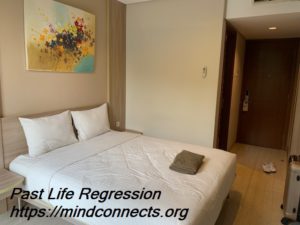 To book for your Past Life Regression Therapy, contact us now.
Check out 111 to Healing with Past Life Regression where 111 questions of yours are answered.